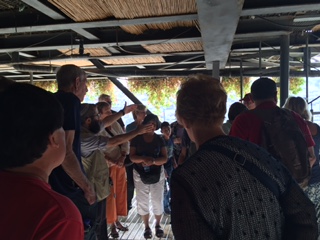 Today's blog post comes from Pastor Karyn Bodenschatz
It has been a full two days as we learn the land of Jerusalem. We are finding that our trip is unlike many that our tour guides do; we spend a lot of time listening and experiencing as we seek deeper understanding. As the leader, who loves this land and the people who live here, there is no other way to visit and I am overcome by the openness with which the people who I lead approach each day. As one of them said, "You have talked about this for several years now and we listened, but now we understand." If we left today, I would be happy with what has been accomplished, but we have many more days left to explore and learn.
DAY 3
On Saturday we entered the West Bank for the first time. It raised a lot of questions when we had to let our Israeli guide off the bus before entering "Area A", that area controlled by the Palestinian Authority. It is good to see the reality of this land and the consequences that follow the many agreements and disagreements. We visited the oldest city in the world: Jericho, where several of our folks rode a camel! We also talked about the history of the place, from before the famous "Joshua fit the battle of Jericho" story and to Jesus and beyond. We experienced the incredible Palestinian hospitality as each time we got of the bus someone greeted us with a tasty treat. While in the area, we learned about water issues from the Auja Eco Project and the struggle they have as they try to provide clean water to those who live in the West Bank.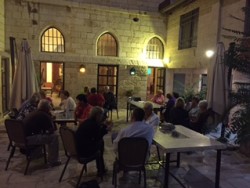 The afternoon was spent relaxing at the Dead Sea. We all enjoyed at least dipping our toes into this ancient sea ­- many choosing to float. It was just what we needed after all the walking we did the day before. The evening found us talking with members of the Parent Circle. It was a powerful evening as we listened to two men tell us their story of heartache and grief. Each had lost a daughter in the conflict between Israel and Palestine. Each talked about choosing between retribution or reconciliation. Each talked about how strange it was to consider talking to the other. The Parent Circle talks to hundreds of people and schools every year as they try to promote peace through conversation and connection. As they say, "We bang our heads against the wall of hatred again and again and create cracks of hope."
To say that hearts began to open is an understatement. We began the shift from tourist to pilgrim. The story came alive, ancient and new.
Day 4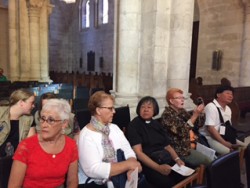 Yesterday included a bishop, a rabbi and an imam which sounds like the beginning of a bad joke, but in fact made for an interesting intersections of faith and ideology. We began with worship at the Lutheran Church of the Redeemer in Jerusalem. We expected to be a part of their usual English speaking service but were surprised with a joint Arabic/English service with the commissioning of their Young Adults in Global Mission! On top of that we were privileged to hear Bishop Younan, bishop of the Evangelical Lutheran Church in Jordan and the Holy Land preach. He challenged us rise up as the church to help bring about peace. To pray, to advocate and to be bold as we work toward healing and peace. We were reminded throughout the service to love our neighbor.
Following worship we met with Rabbi Daniel Roth. He led us in a study of Leviticus text that calls for the people of God to….. wait for it….. love their neighbor. We are beginning to sense a theme. That study led us into conversation around the conflict and possible solutions. We have begun to see that it is not as easy as our politicians or some religious leaders would have us believe.
We then walked more of the Old City heading from the hotel in the Christian Quarter, through the Armenian Quarter to the Jewish Quarter where we made our way to the line to get into the Temple Mount. Being at Al Aqsa Mosque and the Dome of the Rock is an inspiring thing until Orthodox Jews decide to come and pray. They believe that the spot on which the Dome of the Rock is is the place of the Holy of Holies, so they want to get as close as possible to pray there. However, on that spot now is the holiest place for the Muslims. When the Orthodox Jews appeared, the women began to yell that Allah is great and soon a few men joined in. It was an audible and visible reminder of the conflict. It is hard to describe the feelings that overcame me at that moment. I knew that I was a witness to the encounter and that it was important for me to watch and listen as these young men walked through surrounded by police but my heart broke at the pain that was being expressed by the women. The situation here seems so hopeless in these moments.
Many times in the past three days we have heard that Christians are key to bringing peace to this area. Not extreme Christians, but those of us who seek peace, who follow Jesus' command to love God and love neighbor. This moment at the Temple Mount made it clear to me that those who are calling for Christian intervention are right. Following our experience at the Temple Mount we went to the Western Wall and prayed. It is quite the experience to stand with people from all the world and pray. Praying for peace seemed an appropriate thing to do there in this holy place.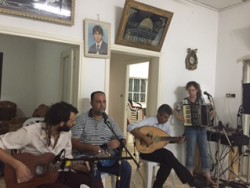 But wait, we weren't done! We followed up our walk with a meeting with an Imam from Al Aqsa mosque. He too spoke of loving our neighbor as the only way to peace. The evening ended with an incredible meal in the home of a Palestinian. It was everything I have come to expect of a Palestinian family and more because it was followed up by live music and dancing. I was overcome with emotion as I watched the people of our group finally getting up and dancing with our hosts, having fun and in the way of things, building bridges of peace.
https://mejditours.com/wp-content/uploads/2015/10/IMG_6115.jpg
240
320
RB-ADMIN
https://mejditours.com/wp-content/uploads/2022/07/logo-green.svg
RB-ADMIN
2015-10-13 15:52:49
2015-10-13 15:55:05
Days 3 and 4