This post was brought to you by Carol H…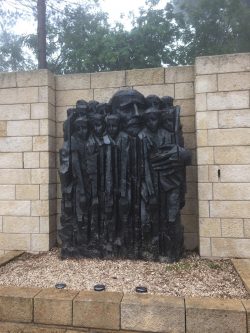 Today was chilly and rainy so when we got to Yad Vasham the Holocaust Museum we couldn't see much of the scenery but we collected our headphones and had time to wander through the museum.  There one of the things that struck me was the reality of life when those who survived the camps made their ways home and how their neighbors often responded with hate and antisemitism.  Some were beaten and others even killed, especially in Poland.  You can see how they would yearn for a place, a land, a state of their own.  Seeds had been planted earlier by Hertzl who founded Zionism.  In 1897 he had convened the first Jewish National Congress and there Zionism was born.
What struck me the most though at the Museum was the memorial to the children.  You walk into a darkened cave and while music p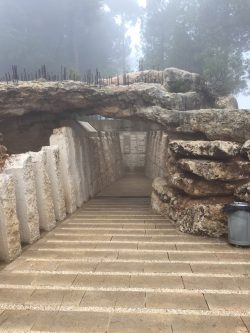 lays a voice reads the names of children, where they were from and the age at their death.  You walk through lit candles that seem to go on forever.
We met with a Holocaust survivor after we finished with the museum and heard her story.  She was a child during the war and ended up in Bergen Belsen Camp.  She doesn't remember her parents much and has no living relatives other than her husband and children.  She was adopted by an American family after the war before eventually moving to Israel.  We ate lunch at the museum.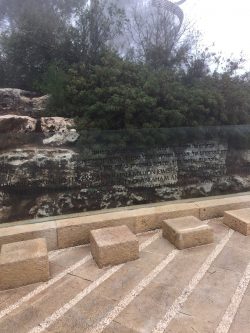 We headed to Ein Karem where John the Bapitst is thought to have been born.  This valley is also the place of much violence.  At one time
it had been a Palestinian village, now only one Muslim and one Christian family remain there.  There was a massacre in a valley next to this one and all the families from Ein Karem fled in fear.  It had been a fertile land of farms.
The Palestinians who had lived here lost all their land after that massacre.
The church we visited was from the Byzantine Era but is today a Franciscan church.  We saw the place where John the Baptist was born, according to tradition.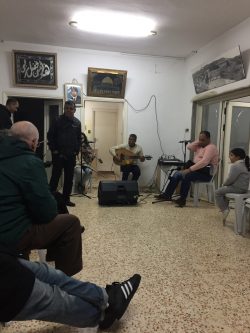 Later we med with Gilad Eisin a retired Colonol from the IDF.  That led to a very spirited conversation.
We left their to head to the Abu Sarah's house where we were welcomed and well fed with traditional Palestinian food.  After supper we got to listen and dance to a band made up of Jewish and Muslim members.  We heard both traditional Arab music as well as Jewish music.
https://mejditours.com/wp-content/uploads/2022/07/logo-green.svg
0
0
RB-ADMIN
https://mejditours.com/wp-content/uploads/2022/07/logo-green.svg
RB-ADMIN
2018-01-02 19:47:30
2018-01-02 19:47:30
January 2, 2018