National Remembrance in Israel: Emotion, Identity, or Politics?
This blog post was brought to you by Marie S…
This is a photo I took overlooking the Western Wall during the start of Shabbat on Friday, March 11, 2016. The circle of people is composed mostly of IDF soldiers, Birthright kids, confused tourists, and bemused spectators who sang and danced the Hatikvah together.
A famous Jewish joke here goes as follows: "Put two Israelis in a room and talk politics. You'll find that the two Israelis have three opinions between them [and four blogs, I would add]." 
Since landing at Ben Gurion airport on January 10, 2016, I have lived and worked in Tel Aviv. I am German, American and Christian, and this year is my first time in the Holy Land. I interned at the "International Institute for Counter-Terrorism" on the leafy campus of Israel's only private university in the affluent beachside town of Herzliya. All my colleagues were Jewish – hailing from Israel, the US, Canada, Iraq, Yemen, Morocco, Russia, and Belgium. Each morning, the 347 bus I rode from Rabin Square to my office passed a graffiti portrait of Theodor Herzl on the Menachem Begin motorway.
Why do I say all this? Because four months of continuous exposure to mostly Jewish, Zionist, and/or Israeli narratives of the Israeli-Palestinian conflict recently culminated in three events squeezed into just one week: Holocaust Memorial Day (May 3), Remembrance Day (May 11) and Independence Day (May 12). Covered in blood, sweat and beer, the Israeli nation mourns and celebrates these three days in a manner that is more intense than Germany's Reunification Day, France's Bastille Day that marks the French Revolution(s), and America's July 4 Independence Day.
Yom HaShoah (Holocaust Remembrance Day); Tel Aviv, 10:00am on Thursday, May 5, 2016
View of Jaffa Gate and the Wall of the Old City during the siren. Photo credit – Dania and Yani.
Suddenly the young woman with dark curls, jeans and a red polo top brought her baby trolley to an abrupt halt. An old couple that had sat on a bench holding hands stood up at the same moment that a Labrador puppy obediently sat down. I was watching Rabin Square freeze in mid-action through the window from inside my commuter bus. It happened suddenly and unnaturally; as if I had pressed the stop button to freeze my television screen.
But a siren paused the action, not a television remote. At 10:00AM on a sunny Thursday morning, Kikar Rabin in Tel Aviv – the square where you can feel the pulse and blood pressure of the Israeli nation – lost all its life. Hauntingly loud, the siren cut through Tel Aviv like a sharp knife through a birthday cake. As the other passengers and I stood up in the aisle of the bus, eight million Israelis stood up with us.
Why? The eight million citizens of Israel proper, of whom approximately 6 million are Jewish, stood up to commemorate the 6 million Jews that fell victim to Nazi Germany's death machine of ethnic cleansing. 6 million Jews were exterminated in the Holocaust – the greatest tragedy in the history of the Jewish people.
Yom Hazikkaron (Memorial Day); Jerusalem, 11:00am on Wednesday, May 11, 2016
The smell of Melissa's Turkish coffee and Amelie's spicy Shakshuka dish was still in the air when we all stood up at breakfast and faced away from our long group table. We leaned over the balcony overlooking the Old City's Wall built by the Ottomans. And then when the siren fell over all this, over this holy city whose history stretches back more than 5,000 years, we experienced the loudest silence of our lives. Looking down on one of Jerusalem's busiest roads, we saw an Israeli couple park their car mid-traffic and stand sorrowfully next to the open car doors. We saw large buses park one after the other. But we also saw motorcycles speeding past all this and up the hill with their motors blasting. We saw taxis racing up the hill, we saw a young man walking on the sidewalk. Did they not hear this loud silence? Did they not care?
In the millennia-long history of Jerusalem, the 68 years of Israel as a Jewish and democratic state are nothing more than a blink of an eye in the bigger scheme of time, rule, ownership and religion. As such, Jerusalem is very different to Tel Aviv, and Holocaust Memorial Day is very different to Remembrance Day. On Remembrance Day, Israeli Jews mourn the lost souls of 25,000 Israeli soldiers who gave their lives in Israel's Wars since 1947. They also mourn those among their nation who were killed in terrorist acts.
But neither of these terms are wholly accepted in the Holy Land – the terrorist acts are seen by many Palestinians as necessary and just political action to right a great moral wrong, to reclaim pride, honor, a lost homeland, and to right the greatest wrong of all – the Al-Nakba catastrophe inflicted on the Palestinian nation by the Zionists in 1948. Likewise, the 25,000 Israeli soldiers who gave their lives for Israel are seen by many Palestinians in this land as criminals who persecuted the indigenous population and robbed the rightful nation or their ancestral land.
There is no easy "truth" here, there are only the facts we see on the ground. And on the ground below our feet, on one of the busiest streets in Jerusalem, the facts showed a divided population at 11:00AM on Wednesday, May 11 as the sirens rang all around us.
Yom HaAtzma'ut (Independence Day); Jerusalem, 11:50pm on Wednesday, May 2016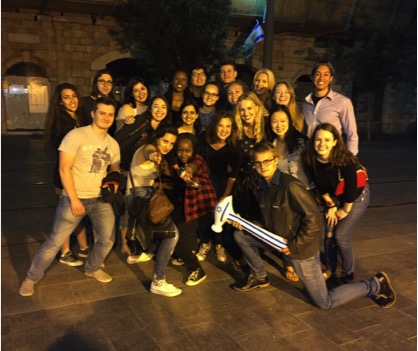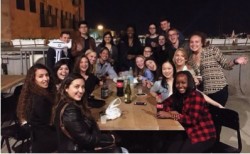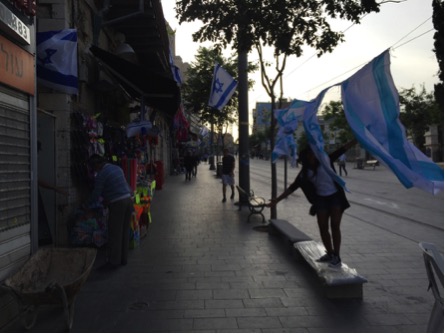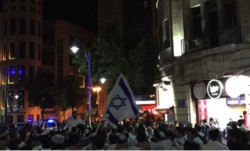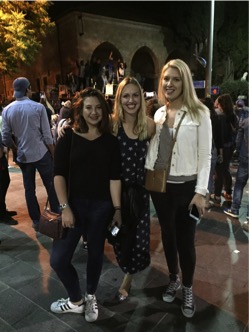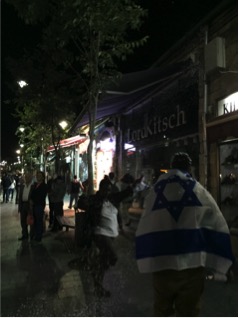 Twenty-one students from different linguistic, national, ethnic, religious and cultural backgrounds dance together in Mahane Yehuda on the eve of Israel's Independence Day. On the surface, we share only two things – our identity as Northeastern students, and our presence in Israel on this very day. How does this affect our experience in this very happiest hour of Jerusalem's Zionist calendar? Well, we have the time of our lives. The cliché says that "pictures can say more than a thousands words." So here is the pictorial story of our Independence Eve experience:
Final thoughts
When will the 16-year old French Jew in Netanya who lost his older brother in the 2014 Gaza War choose his own path in the IDF's obligatory military service? When will the 60-year old Kibbutz-born Sabra woman overcome the inherited trauma of her grandparents' murder in Auschwitz? When will the 90-year-old ex-commander of the Lydda-bound HaHaganah unit of 1948 visit "Lod" to meet an Arab Israeli citizen for coffee overlooking the mosque he attacked during "Al-Nakba"? When will the thirty-year old Palestinian shoe-maker in Hebron be able to use the house keys his grandfather gave him to unlock "his" house in Jaffa where a Jewish family now lives, blissfully unaware?
Israel can give Holocaust Memorial Day, Remembrance Day and Independence Day three different names. Israel can pencil these down in the Jewish calendar on three different dates. But the Jewish state of Israel and her children cannot separate emotion from politics, politics from identity, and identity from emotion. Emotion can blossom into identity; identity can self-destruct through politics; politics can give a microphone to deeply felt and meticulously concealed personal emotions. The three concepts are fluid and ever-evolving… and they are here to stay.
https://mejditours.com/wp-content/uploads/2022/07/logo-green.svg
0
0
RB-ADMIN
https://mejditours.com/wp-content/uploads/2022/07/logo-green.svg
RB-ADMIN
2016-05-13 21:01:22
2016-05-13 21:01:22
National Remembrance in Israel: Emotion, Identity, or Politics?