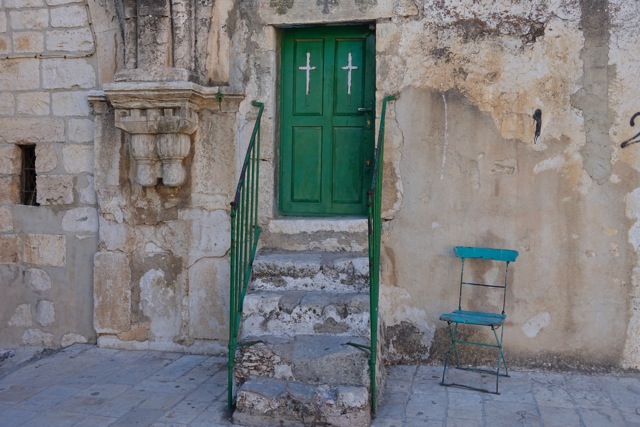 Today's blog post comes from David Deutsch…
Stephanie and I visited the Church of the Holy Sepulchre while on the St. Mark's pilgrimage to the Holy Land. Needless to say the place was jumping: the overwhelming visual impression of many Christians of different faiths solemnly partaking in the spiritual atmosphere of [one of] the most important places in Christendom, the smells of incense and anointing oils. Yet I did not feel like a pilgrim. I felt like a tourist. It felt like I had deliberately come to a place to sightsee. I had expected a bit of spiritual oomph. Instead, I experienced a photo-op. I was a bit let down. Until in the late afternoon Stephanie and I disappeared through a small unmarked door.
I don't know why we chose to go through that door. It was in the courtyard of the Church, and, in an Alice-in Wonderland moment, we decided to duck and enter. After going though 2 small chapels and up a few flights of extremely narrow stairs, we emerged on a large courtyard. We immediately experienced a calm quiet, a cool afternoon breeze, and lots of shade. We had stumbled into an ancient Ethiopian monastery. Of in the corner were several monks sitting under trees near an old fashion well.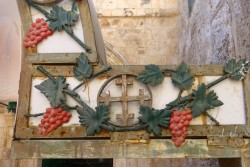 Stephanie and I spent an hour in that courtyard. It was as spiritually refreshing as a long gulp of cold water on a burning hot day. Something about the peace and quiet combined with the faithfulness of the monks gave the place a deeply spiritual quality. Yes, I did take pictures, but not because I simply wanted to document the place. I actually wanted to try and capture a bit of the spirituality of the nearly empty courtyard. The two pictures you see accompanying this blog are only details. But I feel that in some cases only details can capture the whole.

But here is the point. I learned a lesson based on reality about the meaning of being a pilgrim. It echoes the comments of the Rt. Rev. Suheil Dawani, Bishop of the Episcopal Diocese of Jerusalem and the Anglican Bishop in Jerusalem, which Tom Getman read to us at the very start of our pilgrimage:
"Pilgrims do not bring decisions with them. They come to seek prayerfully the decisions God wants us to make. And God will always surprise us…and we who come here as pilgrims must be open to the spirit's leading, open to God's surprising revelation to us."
I can only believe that it was God's spirit that led us through the door, adjacent to the magnificent edifice that is the Church of the Holy Sepulchre, into nooks and crannies and made us true pilgrims.
https://mejditours.com/wp-content/uploads/2015/09/DSC00969.jpeg
427
640
RB-ADMIN
https://mejditours.com/wp-content/uploads/2022/07/logo-green.svg
RB-ADMIN
2015-09-02 21:32:20
2015-09-02 21:33:33
Nooks and Crannies