Temple Micah – Family Israel Trip 2024
MEJDI Tours: Global Leader in Socially Conscious Travel.
Temple Micah - Family Israel Trip 2024
Temple Micah - Family Israel Trip
Registration Deadline: November 1, 2023
Final Payment Due: February 1, 2024
*Pricing: 
ADULTS/CHILDREN**:
$5,475/$4,005 per person (16-19 paying participants)
$5,250/$3,780 per person (20-24 paying participants)
$5,100/$3,630 per person (25-29 paying participants)
$4,990/$3,520 per person (30-35 paying participants) 
*Prices are per person & based on double occupancy or greater. Single room supplements are available.
**Child rate applies to children under the age of 13.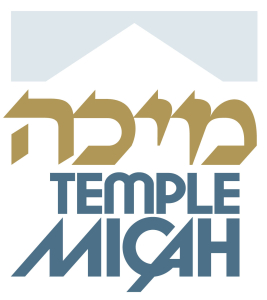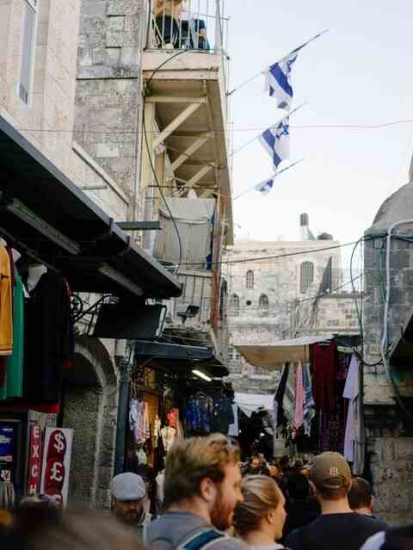 Embark on a journey with fellow families from the Temple Micah community, as we set out on an adventure to Israel. Together we will traverse the country's diverse landscapes – from the streets of Jerusalem, resonating with echoes of ancient history, to the vibrant and contemporary ambiance of Tel-Aviv.
Prepare to be captivated by the living language of Hebrew, which will surround us like a symphony of words. As we embrace the rich tapestry of Israeli culture, we shall tantalize our taste buds with the flavors of Middle Eastern cuisine, tasting culinary artistry that has flourished in this region for millennia.
Our voyage will take us through contrasting realms, unveiling the striking allure of Israel's natural wonders. We'll be spellbound by the blooming splendor of the northern regions, where vibrant flowers paint the landscape. And in stark contrast, we'll venture into the arid yet captivating desert of the south.
As we delve deeper into our journey, we shall explore the biblical roots that have shaped the Jewish people throughout history. From ancient biblical sites to sacred landmarks, we shall tread the same paths as our ancestors, connecting with the essence of our faith and heritage.
While tailored to accommodate first-time visitors, this itinerary holds countless surprises even for those who have previously explored Israel. Our schedule includes opportunities for families to bond together as well as ample time for adults and children to venture out independently.
Our trip promises to be an odyssey of discovery, fostering lifelong memories and forging lasting connections with our fellow travelers and the remarkable land that is Israel.
Tour Highlights Include:
Tours of food & craft markets

Beach time

Multi-Ethnic Hip Hop tour of Jaffa

Kids visit the Museum of Illusion & a Trampoline Park while adults enjoy a nice dinner

Kids participate in an Aerial Silks class while adults partake in a whiskey tasting

"Dinner in the Dark" served by blind waiters

4-wheel scooter tour of Caesarea

Milk goats to make fresh cheese to spread on pita made by you

Learn to make a zatar spice blend  


Water obstacle course on the Sea of Galilee (Lake Kinneret)

Archaeological dig in caves from the Maccabean Era

Visit an Ethiopian Israeli cultural center

Jerusalem's Old City


Kids paint Armenian tiles while adults continue touring the Old City  

Sound & Light Show at the Tower of David

Family art projects

Adults hear from Yossi Klein HaLevi while kids explore Gan Sacher's giant playground

Meet American Reform High School students studying abroad at Heller High


Masada

Dead Sea Spa


Shabbat with Reform Communities in Tel Aviv and Kibbutz Gezer
$4,990 (adult) / $3,520 (child)
Interested but not ready to deposit? Click the "Request Info" we can keep you updated on the tour status.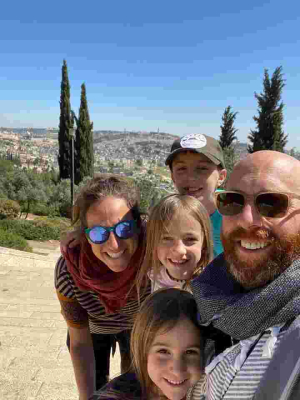 Rabbi Josh Beraha, the associate rabbi at Temple Micah in Washington, D.C., has a deep connection with Israel. His journey began with a transformative summer teen tour organized by his Reform Jewish summer camp. During his junior year of high school, he further immersed himself in Israeli culture by living with a host family in the Gilo neighborhood of Jerusalem. This experience fueled his passion, leading him to major in Modern Hebrew Literature in college and to spend a semester abroad studying at Hebrew University.
Rabbi Beraha returned to Israel during his first year of rabbinical training when he and his wife, Nani, resided in Jerusalem. As a dedicated Zionist, Rabbi Beraha embraces Israel's rich and complex history, its language, and culture. He looks forward to sharing his love and knowledge of the State of Israel with the Micah community.
Pictured above: Beraha Family in Israel, April 2022
Do not book your flight until you receive the tour confirmation email from us. This tour requires a minimum number of travelers to run and we will send out the tour confirmation (and update this note on the webpage) as soon as we have met that number.
Check out travel insurance options. 
Some plans and policies [Cancel For Any Reason (CFAR) or coverage for pre-existing conditions] may only available for a limited time (approximately 2 weeks) following your date of deposit.         
https://mejditours.com/wp-content/uploads/2022/07/logo-green.svg
0
0
Marisa Fontana
https://mejditours.com/wp-content/uploads/2022/07/logo-green.svg
Marisa Fontana
2023-06-21 22:03:27
2023-07-03 09:24:01
Temple Micah – Family Israel Trip 2024