Global Leader in Socially Conscious Travel.
Registration Deadline: July 24, 2023
*Pricing: 
$2,870 per person x 12 paying participants

$2,600

per person x15 paying participants
*Prices are per person and based on double occupancy. Single room supplements are available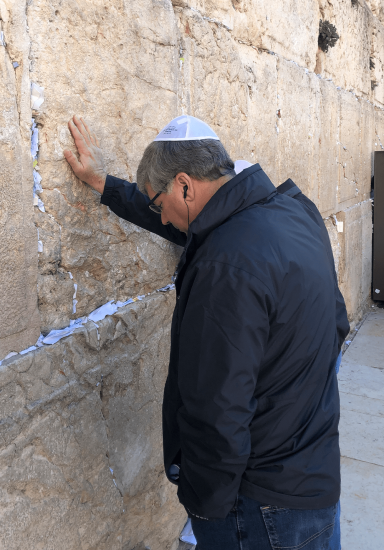 When you think of "life-changing" events you often think of weddings, the birth of a child, perhaps a new job, undoubtedly the loss of a loved one, and you may include a few others.  Most Christians who have visited the Holy Land would add that experience to the "life-changing" list. It's that spectacular.

You've read the story of Jesus praying in the Garden of Gethsemane on the Mount of Olives, but to be there and to actually kneel and pray there yourself! You've imagined what it was like to be in the boat with the disciples on the Sea of Galilee, but having the chance to actually be on the Sea itself! Looking around the coastline, you can imagine him casting out demons, teaching on the beatitudes, healing the sick, and calling out to his disciples.

Next October we're planning a trip to the Holy Land. You'll have the chance to pray that prayer and to take that boat ride. You'll have the opportunity to be baptized in the Jordan River, float on the Dead Sea, pray with others at the Western Wall. You'll get to breathe the "Jesus air." Along with the Bible coming alive in new ways, we'll have a Sabbath meal with a Jewish family and another dinner with a Palestinian family. We'll learn from the people of the land the challenges they face each day. We'll stay in quality hotels and dine in abundance each day. We'll be led by licensed tour guides who know the best routes to take and the places to avoid.

It's the trip of a lifetime and I want you to go with me. The cost is $2870 (plus airfare). That covers all the tours, the hotels, the guides, and most of the meals. We need at least 12 people to make the trip possible and if we get 15 or more, that cost actually will go down $270.
Interested but not ready to deposit? Click the "Request Info" we can keep you updated on the tour status.
Do not book your flight until you receive the tour confirmation email from us. This tour requires a minimum number of travelers to run and we will send out the tour confirmation (and update this note on the webpage) as soon as we have met that number.
Check out travel insurance options. 
Some plans and policies [Cancel For Any Reason (CFAR) or coverage for pre-existing conditions] may only available for a limited time (approximately 2 weeks) following your date of deposit.         
About Your Group Leaders​