Get Out the Vote: A Field Study in Participatory Democracy
Multiplicity can work with you to build a custom tour exploring the theme of "Protest, Activism and Social Movements" at your preferred destination.

Sample Tour (Choose your Destination)
---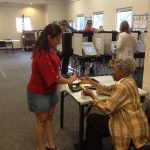 Head to the Carolinas for an in-depth look at a growing movement aimed at expanding access to voting and involving a greater number of citizens in the political process.

---
Meet with elected officials from both parties to discuss the benefits and drawbacks of voting-by-mail.
Join a parlor meeting organized by a leading advocacy organization in a rural community aimed at surveying community needs.
Stop by a local university to hear from students about the challenges and rewards of organizing efforts that connect the campus with the local community.
Hear from a panel of local veterans about their unique perspective on the politics of the day, and visit a military base to discuss how new recruits' sense of responsibility to country extends from the battlefield to the ballot box.
Spend time canvassing in a major city alongside the head of an outreach organization focusing on the African American community.

Stop by a resident's home for lunch and learn about their family's deep roots in this area and motivations for staying involved today.

Meet representatives of a committee tasked with collecting and counting ballots in local elections.

Review protocols for preventing tampering and ensuring a free and fair vote.

Head to the beach for a picnic, hike to an impressive waterfall and spend a relaxing afternoon learning local leisure games at a popular hangout. 

Relevant themes include political science, law, community organizing and advocacy, economics, ethnic studies, social work, sociology, urban studies, women's studies, peacebuilding and development, psychology, sociology, social work.
Interested in learning more?
Fill out the form bellow and we will get back to you as soon as possible.
[gravityform id="2″ title="false" description="true"]
https://mejditours.com/wp-content/uploads/2022/07/logo-green.svg
0
0
RB-ADMIN
https://mejditours.com/wp-content/uploads/2022/07/logo-green.svg
RB-ADMIN
2020-05-14 13:31:44
2020-05-20 15:10:00
Get Out the Vote: A Field Study in Participatory Democracy