Lost in the Abu Dhabi Desert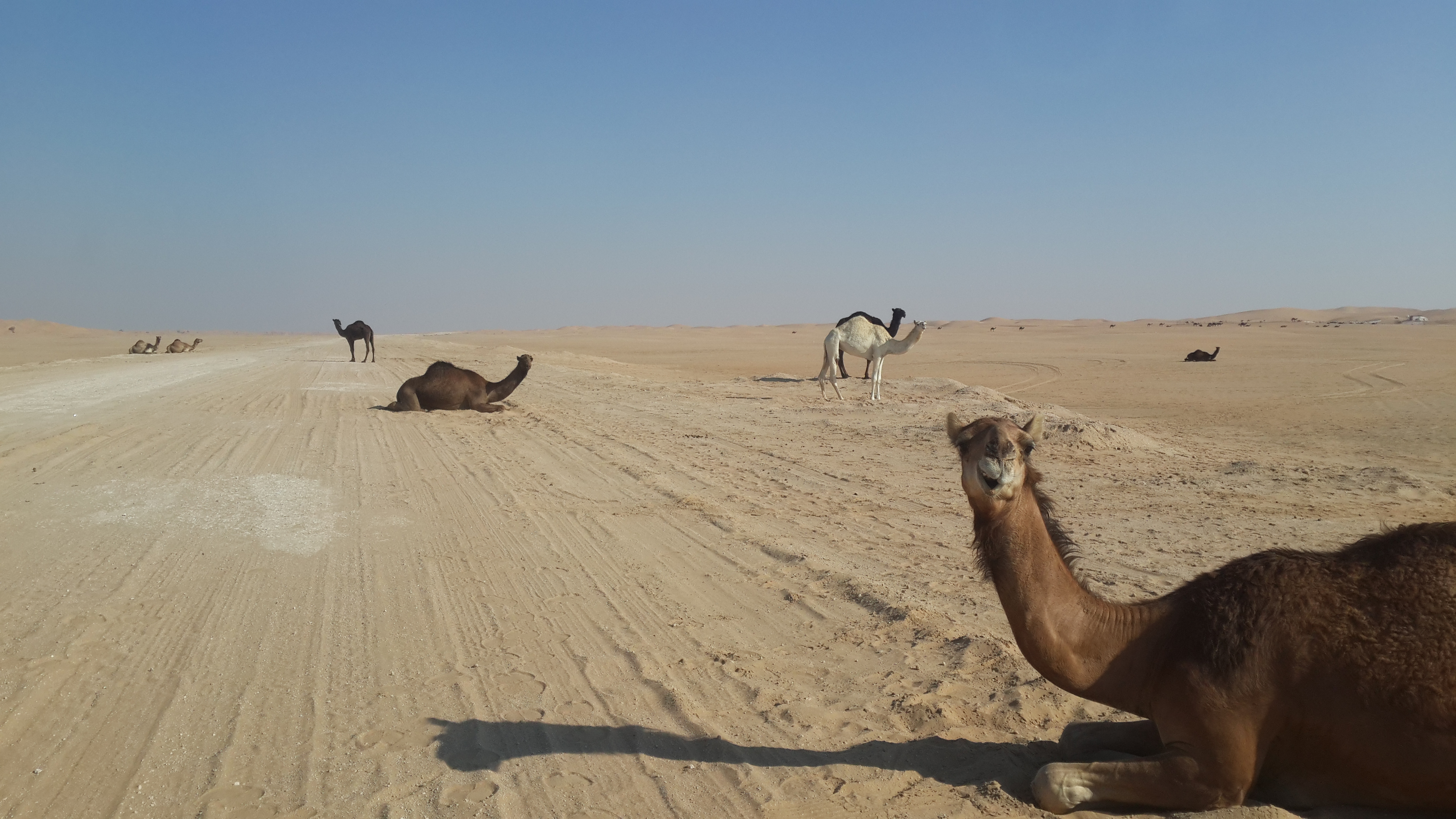 Our next blog post comes from MEJDI co-founder, Aziz Abu Sarah…
My head hit the roof of the minivan, and I was rudely jolted out of my nap. I looked around groggily, and saw only sand dunes as far as the eye could see. No traces of people, animals, anything. The engine of our little Honda mini van was struggling to climb a dune on an unpaved desert road that seemed endless. I thought I was dreaming, but my Egyptian tour guide Muhammad and my Pakistani driver Omar were cracking jokes about our situation. "How will we survive if our van breaks down here?" Omar worried. "How much water did we bring?" Muhammad asked, and then added, "Does anyone know how to hunt?" and "Is there anything to hunt in the desert?" Omar was starting to get frustrated. "They didn't tell me about this road. I could have brought my 4X4 Jeep. The van can't do this."
I was in Abu Dhabi on my way to al-'Ain, in the United Arab Emirates, to inspect hotels, routes, and itineraries for our MEJDI tours in the UAE. A tour operator friend of mine had recommended that I visit the Arabian Nights village on my way. This is how a Palestinian, an Egyptian, and a Pakistani got lost in the desert.
We had lost cellphone connection, so for a while we couldn't make any calls. Eventually, we were able to get a connection. The Egyptian, Muhammad, called the hotel and had one of the funniest conversations I've heard:
Muhammad: Hi, this is Muhammad. I'm bringing Mr. Aziz to meet with you.
Indian Hotel Staff: Hi, Yes. We are waiting for you.
Muhammad: We have been driving in the desert for over 40 minutes and there is no "Arabian Nights" here anywhere.
Staff: Where are you exactly?
Muhammad: I don't know, we took the exit you told us to take. We are somewhere in the desert. I see a lot of sand.
Staff: Yes, we are in the desert so you are probably in the right direction.
Muhammad: But we have been driving for 40 minutes. When do we get to your hotel??
Staff [audibly shrugging]: I don't know. A little bit more.
Muhammad: But what if we took the wrong road? We don't know where we are!
Staff: Yes, but I don't know how to help. Can you see any landmarks?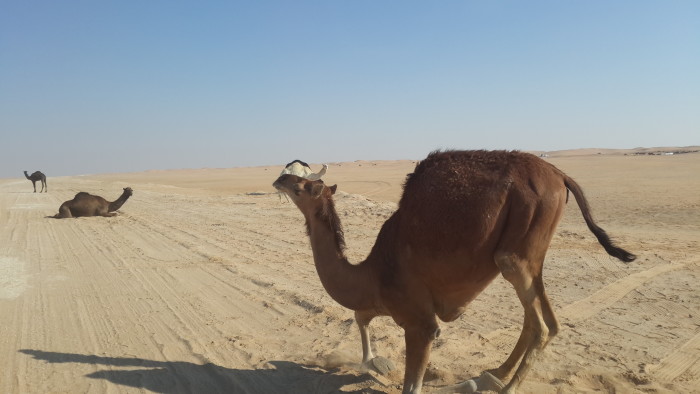 At this point, our minivan was cruising by a group of itinerant camels. There were no herders in sight to care for them. But Muhammad dutifully reported "No, but I can see a few camels."
Staff: Great! If you are with the camels then you are about 10 minutes away from the hotel.
Muhammad: Really? But what if the camels have moved to be next to the wrong road?
Staff: I know this area very well. We are ten minutes from the camels.
Muhammad: Are the camels yours?
Staff: No, I don't know who owns them, but they are always there.
After hanging up, Muhammad turned to us. "We're doomed." But Omar restarted the van, and we nudged our way through the swarm of dromedaries. To our relief, after another ten minutes, the dunes parted and a building appeared.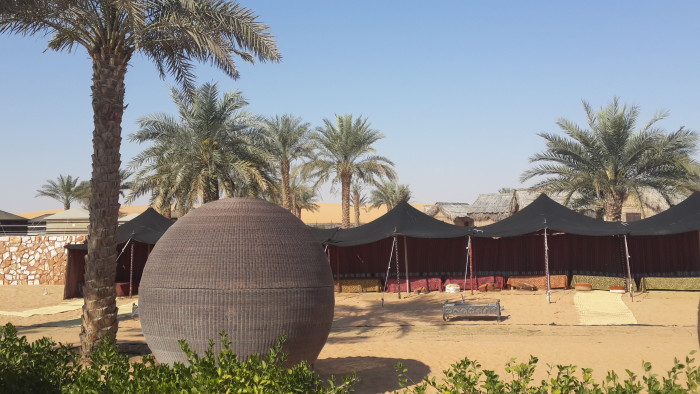 Now, as an Arab, I'm accustomed to being given terrible directions, like "our house is next to the big shop" or "our hotel is behind the mosque of the area" or "keep driving until you see graffiti on a wall on your left, then take a right and ask someone about Abu Mahmoud and people will guide you." But using camels as a moving landmark was new even to me. Thankfully, Arabs aren't in charge of Google Maps.
Overall, the hotel was a good place for younger travelers who are seeking total detachment from city life and want to experience the desert. The rooms were designed in an Arabian Bedouin style, and the hotel had a pool, bar and concerts or events on most nights. They also offered great group activities like survivalism in desert (a class I could have used on the way), desert cooking, sand dune boarding, camel riding and safari tours. The place purposely doesn't have internet or television, which is a great way to have get away from it all.
When people think of the UAE, they often think of Dubai with its busy and bustling nightlife. However, the UAE offers much more than just beachside luxury hotels and world-class shopping centers. Each time I visit the UAE, I learn more about nature, history, and the diversity of Indian Ocean cultures. The UAE is still waiting to be truly discovered by travelers.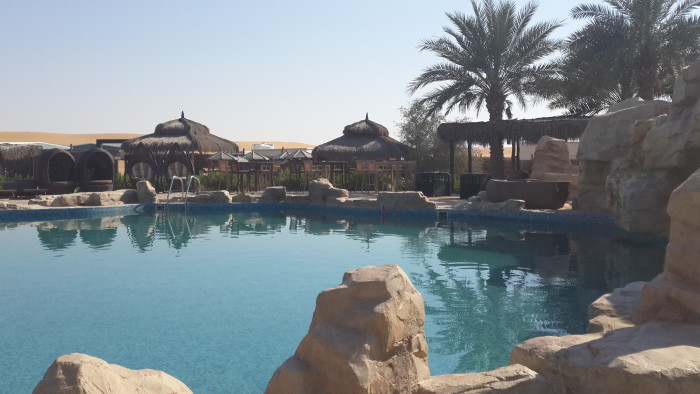 For more information…
https://mejditours.com/wp-content/uploads/2015/02/20150128_152236.jpg
2322
4128
RB-ADMIN
https://mejditours.com/wp-content/uploads/2022/07/logo-green.svg
RB-ADMIN
2015-02-18 10:14:42
2015-02-19 15:21:03
Lost in the Abu Dhabi Desert