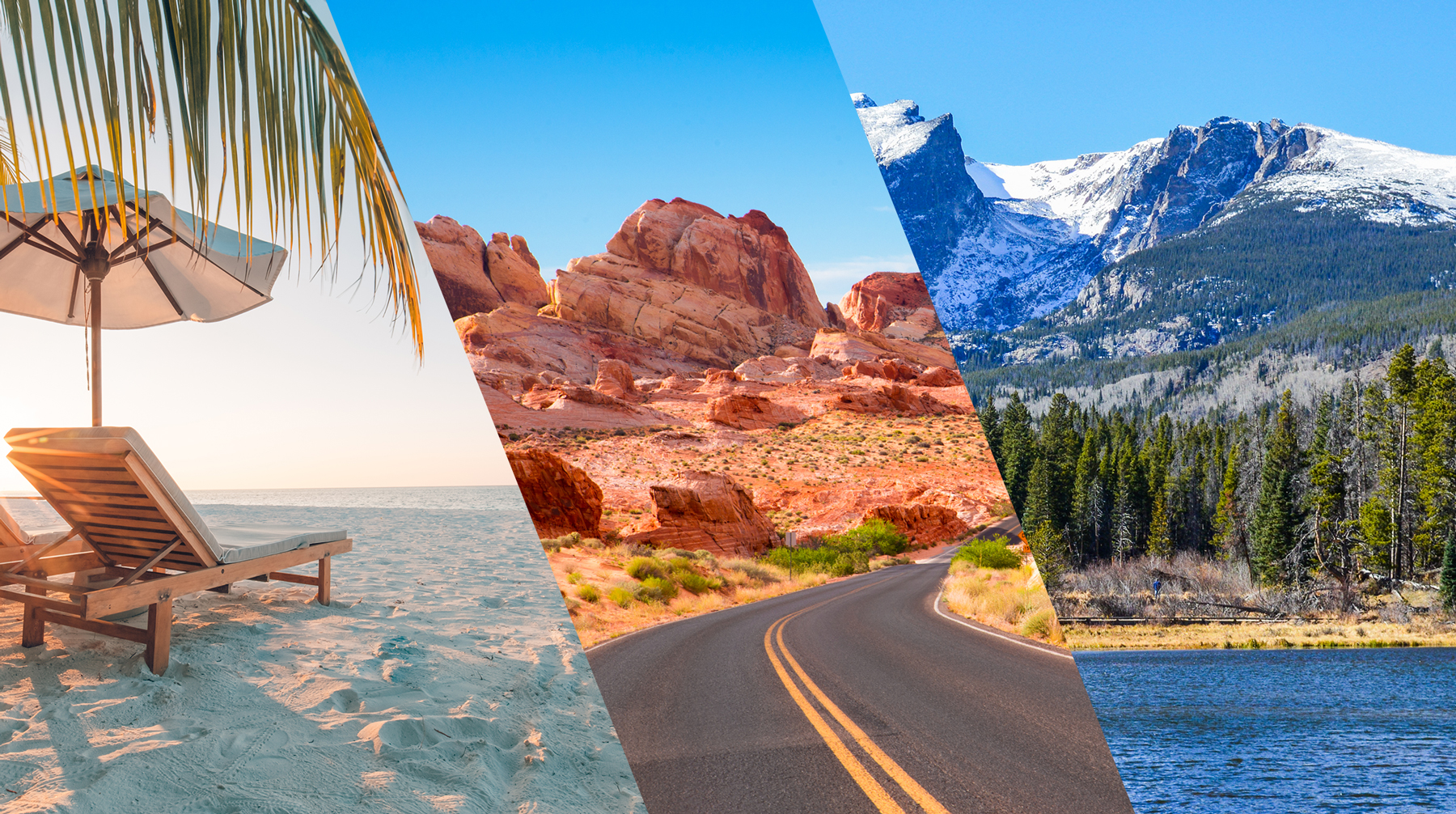 Plan Your Next Vacation and Get Outside… with Legacy Vacation Resorts

During this unique travel season, we're proud to partner with fellow certified B Corporation, Legacy Vacation Resorts to showcase some of the best of America closer to home in Florida, Colorado, Nevada and New Jersey.

Take advantage of these unique times to reconnect with nature – next to the ocean, in the mountains or amidst the desert. Grab your camera, accompany a local guide, or just immerse yourself in stunning surroundings and re-find what's important.
Get outside, breathe the fresh air and take some well deserved time to unwind at one of Legacy's Vacation Resorts, whether it's the ocean, mountains or simply a change of scene that you long for.

Now's the perfect opportunity to support our friends in the hospitality business who are committed to doing good. Part of the 1% for the Planet initiative, you can be sure that your stay will support giving to carefully selected environmental causes, too.

Legacy Vacation Resorts are prioritizing customer safety and are taking steps to make sure everyone's stay is safe and socially distanced in light of Covid-19.

Travel Safely, with a break from the chaos, closer to home.
Whether you crave the ocean, mountains, desert or simply a change of scenery, we have the perfect escape for you.
For limited time only:
Use the code MEJDI at checkout and get a 15% discount at any destination with Legacy Vacation Resorts.
Are you feeling the need for some tropical air, beautiful beaches, and warm waters? Travel to Florida with Legacy Vacation Resorts and stay safely in your own suite or studio, complete with kitchen in one of Legacy Vacation Resorts' four Florida locations.

(15% Off at any destination with the code MEJDI)
How about some of the North East's best beaches in New Jersey for the classic seaside holiday? Brigantine Beach on the Jersey shore makes for a great summer getaway, within easy reach from all the North East Metros.

(15% Off at any destination with the code MEJDI)
Is it mountains and lakes that call you? Visit Steamboat Springs, CO for stunning mountain vistas, kayaking on the lake, strolls around flower meadows, or just to get some fresh air. Perfect for all the family.

View All Colorado Destinations 

(15% Off at any destination with the code MEJDI)
Want to get off the beaten path? How about a trip to the "Biggest Little City in the World". Just 25 miles from Lake Tahoe, Reno is a great place to base yourself if you love outdoor activities, with the Truckee River and Pyramid lake within easy reach as well. Explore the beautiful surroundings of Washoe County, venturing into the Carson mountain range which has great opportunities for hikers and climbers alike.

(15% Off at any destination with the code MEJDI)
When you stay with Legacy Vacation Resorts, know that your health and safety is number one priority. All Legacy Vacation Resorts have rigorous cleaning and hygiene measures in place and support social distancing. Whichever location you choose, you'll be well placed to be self sufficient and away from the crowds while making the most of your downtime.

Legacy Vacation Resorts support the following measures for the prevention of Covid-19 spread:
All Legacy Vacation Resorts support social distancing measures and have implemented new policies to avoid the congregating of guests in public areas, and have reduced interaction with staff where not strictly necessary. Rooms are larger than average, many with kitchenettes or full size kitchens, ensuring you have plenty of space at your accommodation.  
Take a digital detox and focus on your wellbeing in the stunning surroundings of each resort, helping you connect with the healing power of nature and a little down time. Whether it's mountains, sea or beaches that you love, we have plenty of stunning nature for you.
Each of the Legacy Vacation Resorts is set amid or close to nature, making it easy to escape the city – and the crowds. Social distancing comes naturally here – in fact in some of these destinations, you'd have to actively go looking for company!
At Legacy Vacation Resorts, you not only get to have a great vacation, you get to support a hospitality organization that gives back, too. Legacy Vacation Resorts are a certified B Corp and part of the 1% for the planet initiative. What's more, for every stay, Legacy will offset 100% of your carbon footprint from your trip if you book directly! It's all part of their commitment to work towards more sustainable travel experiences.
We've handpicked these resorts for their easy access – wherever you're traveling from within the USA. Either a short flight or a mini road trip in the comfort of your own vehicle will see you at one of Legacy Vacation Resorts' destinations.
All of our resorts are undertaking an intensive deep cleaning schedule, including disinfection of each guest suite and all public areas throughout the properties.
We know that at the moment, you're probably looking to avoid eating out in places that may be crowded. Legacy Vacation Resorts Suites and Studios all come with either a kitchenette or larger kitchen, making them perfect for when you prefer to bring your own groceries and cook in the comfort of your own accommodation.