Journey closer to Home with MEJDI
Multiplicity Tours is a socially conscious travel company that helps travelers explore the diverse communities and narratives of the United States through our tailor made travel programs. Our journeys offer deep cultural connections, intellectually stimulating speakers, breathtaking natural scenery, mouthwatering culinary experiences, cutting-edge local music, and well-deserved fun and relaxation through trips of discovery.
Featured Tours
Visit key sites throughout the nation's capital with two guides – one conservative, one liberal – who shed light on America's complex political landscape.
Discover diverse wildlife species in spectacular forests and across stunning shorelines. Put conservation planning principles into practice.
Trace the legacy of the Civil Rights Movement through the South. Consider how a pivotal period in history  continues to shape American society.
Immerse yourself in Native lands of the Dakotas*. Connect with the earth, encounter a vibrant tribal culture, and gather lessons in perseverance.
---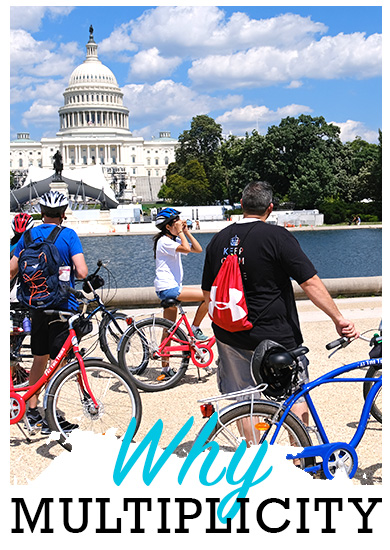 Experiences to change Perceptions. Join one of our themed adventures such as "Bridging the Red & Blue Divide," "The Civil Rights Movement," and "Native American Culture," Multiplicity's tours thoughtfully unpack complex topics in a fun and positive way that brings people together and fosters an appreciation for diversity.
Fully Customizable. We tailor make your perfect itinerary for groups and travelers that are as diverse as the topics we explore. Our custom programs display the beauty and diversity of the United States. Tours cover regions like the Pacific Northwest, the Dakotas, Colorado Rockies, the West Coast, Southwest and Southern Border, the Midwest and Great Lakes, Appalachia, the Deep South, and Washington DC and the Eastern Seaboard. Choose a destination or a theme, and we'll do the rest.
Trusted Brand. As a brand of MEJDI Tours, we are a certified B Corp with over 10 years experience running global travel programs. Multiplicity prides itself on partnership with local people and organizations. When you choose Multiplicity, you give back to the communities you visit, strengthen businesses, families, and individuals, and promote responsible, sustainable tourism.
Meaningful Travel. Multiplicity was founded to bridge cultural divides, foster appreciation for diverse perspectives, and support local communities through socially responsible travel programs.
Come uncover a different United States with us

Core Themes & Customized Itineraries
These tour concepts showcase Multiplicity Tours' unique approach to travel. Explore key concepts, challenges, opportunities and issues within the United States today with your travelers through our themes. Multiplicity Tours works with group leaders to build custom tours around one or more of the topics below, at their preferred destinations.
Explore America's polarized political landscape with two guides – one conservative, one liberal.  Investigate root causes of this division, and discover paths of common cause and reconciliation.

---

The flagship tour is operated in and around Washington, DC, and adaptable to a range of other locales.
Examine the once popular characterization of the United States as a religious and cultural "melting pot." Understand trends towards an increasingly diverse nation and consider their implications.

---

Tours are offered in both major population centers and lesser known areas of unique composition. 
Meet change-makers working on fiercely contested social issues across the country. Examine methods of collective action, identifying links between social movements in the United States and activists around the world.

---

Custom tours feature multiple perspectives and cover a wide range of content. Available in all regions.
Discover diverse plant and animal species in a variety of natural habitats. Gain experience as a conservation practitioner, learning the principles that guide government, policy, and community applications. Enjoy the outdoors and capture it on camera.

---

Tours may explore forests, plains, mountain ranges and/or marine habitats at your preferred destination.
Explore what companies, organizations, and communities are doing to improve the sustainability of vast systems we rely on. Trace the impact of developments in the United States at the local and global levels.

---

Custom tours focus on issues ranging from food scarcity to climate change, resource consumption, and more.
Encounter vibrant cultures that persevere in spite of tragic histories and contemporary challenges. Understand indigenous communities' unique circumstances, status, rights and heritage.

---

Tours currently offered in the Dakotas and Southwest, can be customized for other destinations.

Destinations
Multiplicity Tours covers a range of destinations – from the best known to some of the most unique places to visit across the country. Each itinerary is hand-crafted to offer new perspectives on complex issues and insights through unique experiences. Thoughtful engagement with local communities, ample recreation, and leisure are combined for an unparalleled travel experience.
Trace the course of development across the Midwest, imagining the cityscape as a frontier for creative thinking. Witness urban planning theories in practice at the heart of downtown and on street corners in the periphery.

---

Tour visits St. Louis, Chicago, Detroit, and smaller cities in between, but can be adapted to one or two metro areas.
Imagine arriving to the port of New York as a new immigrant. 

Meet city residents from a wide variety of ethnic, religious and cultural backgrounds.

Reflect on how diversity continues to shape this booming metropolis.

---

This tour focuses on NYC but can be adapted to destinations across the country.
Examine key facets of the ongoing debate over immigration across the US border with Mexico. Gather different perspectives on the situation, assess current policies, and hear voices that humanize those affected on all sides.

---

Itinerary includes cities in Pennsylvania and rural areas as far as Tennessee.
Scale the western Rockies and explore the Idaho Panhandle, capturing spectacular views and unique perspectives along the way. Consider questions of national identity, rights and the limits of freedom.

---

Tour spans from Montana to Eastern Washington but can be adapted to a smaller geographic scope.
Journey to the Florida Keys, a diverse ecosystem of mangroves, coral reefs, pinelands, and saltwater channels. Learn about how tourism, overfishing, pollution, and irresponsible boating all contribute to the dangers facing this unique ecosystem.

---

Itinerary can include the Everglades and Keys or focus on one ecosystem.
Enjoy stunning lakefront views and meet communities that formed around them. Learn how various groups arrived here and why they continue to flourish. Join local festivals and appreciate a region far from the standard tourism circuit, but celebrated for its hospitality.

---

Some tours reach the Upper Peninsula and/or cross into Toronto, ON.
Marvel at the vast expanse of a leading agricultural region. Trace the path of mass industrialization of farming in the United States over the past century. Learn how technology has changed growing practices and meet those working to create a more localized food chain.

---

Tours focused on agriculture can also be adapted to groups' preferred destinations.
Travel to the heart of an evolving Appalachian region, rich with little known legend, varying points of view, and distinctive culture. Learn how this landscape took shape over time, and consider what lies ahead.

---

Itinerary includes cities in Pennsylvania and rural areas as far as Tennessee.
---
Interested in learning more about our United States programs?
Fill out the form bellow and we will get back to you as soon as possible.
[gravityform id="2″ title="false" description="true"]